Perhaps you've noticed "
news results
" appearing near the top of your search results in Google, with two or three stories from mainstream media sources appearing near the top of the results with an invitation to surf over into more search results under Google News Search.
Soon, you'll be seeing another subset of results on your Google Search Results page: beginning this month, Google began clumping together "
in-depth articles
" as a subset of finds, similar to News Results, in your Results.
Personally, I've only seen "in-depth articles" pop up once or twice in my searches; each time, they appeared at the bottom of the first page of search results, included three options, and were all provided by mainstream media publications.
What is this content?
In the words of Google (
here
and
here
):
[P]eople continue to invest in thoughtful in-depth content that will remain relevant for months or even years after publication. This is exactly what you'll find in the new feature. …
Often when you're searching on Google for a person or organization name, or other broad topic, you'll find a block of search results labeled "In-depth articles." These results provide high-quality content to help you learn about or explore a subject.…
Google In-Depth Articles in Search Results
Expect to find articles published by the
New York Times,
the
Wall Street Journal,
and other established publications, although Google does suggest that these in-depth articles will include "
…great articles from lesser-known publications and blogs.
"
Here's an example of search results including the new feature as provided by Google: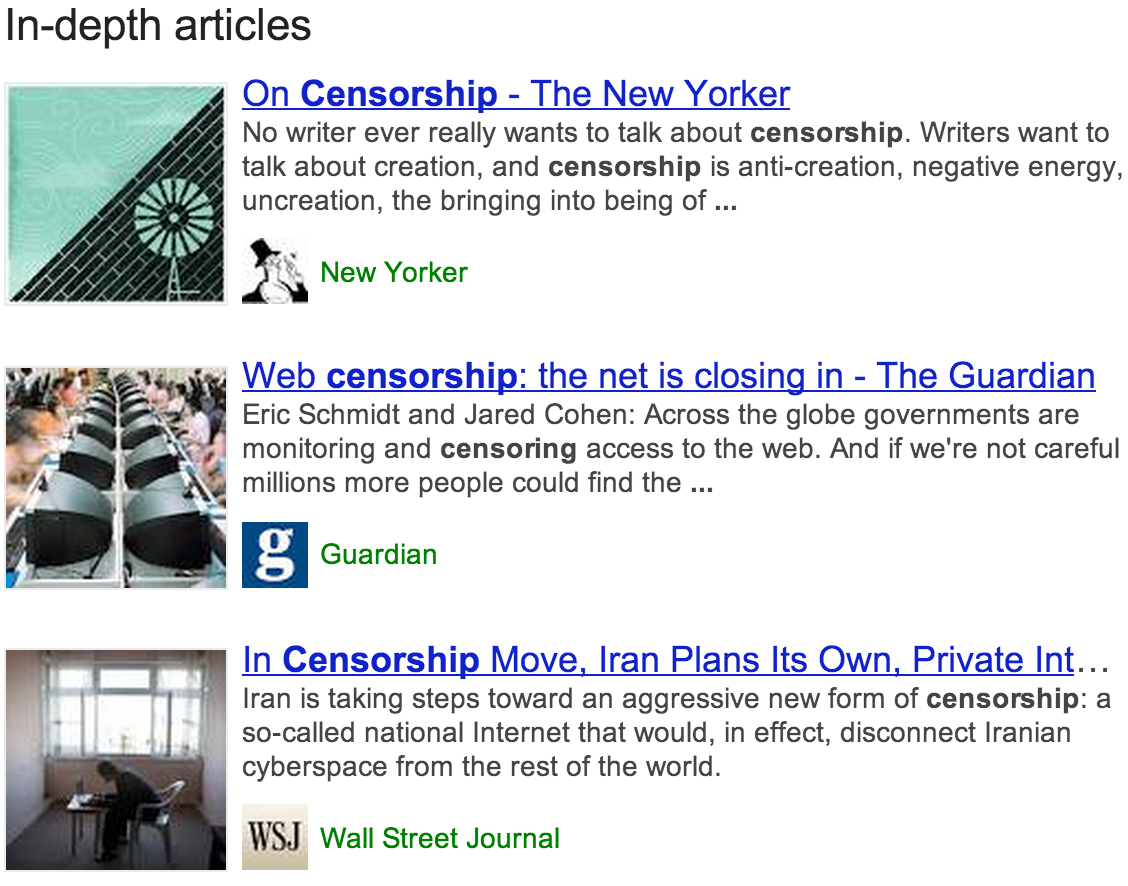 Google Tips on How to Get Your Content Into In-Depth Articles Section of Search Results
Google will be making its own top-secret decisions on what content will appear in this subset of Search Results. There's no magic wand that is going to get your content into that new first page position.
However, Google Webmasters do provide instructions on coding to include in your content that will help you meet this goal. From Google (
read all the details here
):
1.
Include coding from Schema.org in your content (metadata)
Google suggests that you use the article markup provided at
Schema.org
including specifically the following:
headline
Alternative Headline
image (note: the image must be crawlable and indexable)
description
datePublished
articleBody
Authorship markup
Pagination and canonicalization
2.
Have a Logo
(check out the logos appearing in the image for the Wall Street Journal and the New York Times)
Google suggests logo placement via:
Google+ Page linked to your website, where the default image for the Google+ Page is your logo or icon that will be used for the In Depth Article result.
Use organization markup (see above metadata).
For those thinking that this is one more reason to get cracking on Google+, you're right. It's important.